Coming up…: Amazing weekend at the WBC Show, fight results below. But in the meantime, what's happening next?
Firstly, we've been invited to an Interclub at Hybrid Gym in Plymouth on Sunday 24th July at 11am. There will be Juniors and Adults Muay Thai. Prices are £9 Fighters and £5 Spectators.
This is a great opportunity for any of you that would like to get in the ring for a friendly challenge, whether it be for the first time or just to keep sharp. They are looking to pre-match so we'll need names as soon as possible, especially as it's only 3 weeks away.
Secondly, the next Grading is pencilled in for end of August, date to be confirmed.
Thirdly, next confirmed Fight Show is 10th September in Plymouth.
It's all happening, with some great goals to work towards for everyone😁
Pete & Riley's Demo: Riley was originally matched to fight on this show and was obviously greatly disappointed when the fight was cancelled.
The promoter was still keen to keep Riley on the card, and as it became apparent that a substitute match wasn't going to happen, we were invited to open the show with a demo.
Big thanks to our very own WBC Champ Pete to put in the time to help make this demo so exciting, and well done to Riley for working so hard and representing WAKT in style.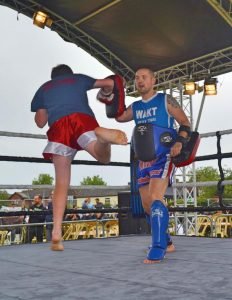 Henry's Fight: Once we knew that the Muay Thai fights were going to be 5 rounds and not 3 which many novice bouts are, it was reassuring as we are obviously a traditional Muay Thai gym.
This worked especially well for Henry the H, as his style is to move up through the gears as the rounds progress, which is classic Thai style. We knew this could be tight if close on points because we were against the home gym 'Twin Tigers'. After some gentle persuasion from the corner, Henry did indeed push the tempo to secure a strong unanimous victory in a very exciting and strategic fight.
Well done Henry the H!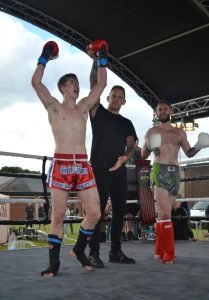 Logan's Fight: We knew that Logan's fight was going to be a tough one, especially as his opponent was a coach at the gym he trained out of too. Loges was fully aware of this, and was undeterred.
What we wasn't expecting was for things to go a bit pear shaped on the day. Firstly his opponent weighed in too heavy, but was put down to faulty scales. Then his match was changed from 5 rounds of Muay Thai to 3 rounds of K1.
We obviously voiced our concern over this change as we're not a Kickboxing gym, and finding this out a couple of hours before the fight did nothing to help Loges state of mind. He still went in there and fought his heart out. So proud of him, and he dealt with the whole thing like a champ – what a star!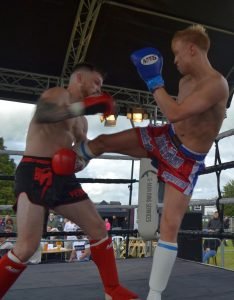 Matt's Fight: Everyone's got their things going on outside the gym, whether training for a fight or not. As fight day gets closer, the pressure inevitably rises. Matt had a bit of bad news which a lesser person would have used as a reason to pull out of the fight. Matt used this to focus on the fight and turned a negative into a positive. This was Matt's 3rd fight against an opponent who had previously had 8 fights. Round one saw both fighters engaging with some strong shots, but it was apparent that Matt was finding his distance and settling in quickly. As round 2 started Matt showed some lovely combinations and increased his power. This resulted in stopping his opponent who was unable to continue. Awesome performance from Mr Bram-well.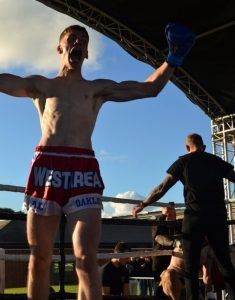 If you're interested in learning Thai Boxing/Kickboxing with WAKT, then please check out our time-table here
For all your Website, SEO needs please visit mightyoak uk